Mets Fan Writing Her Way to a Career with the Team
April 8, 2019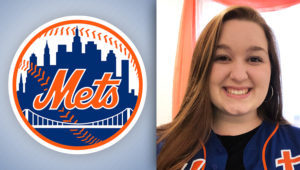 Sam Brown
Sophomore Samantha Brown – better known as Sam – is an avid New York Mets fan. One might even say fanatical. So much so, in fact, that when she graduates FSC she wants to work in the team's media relations office. But she's not waiting until graduation to get her career going. She's already writing articles for a Mets website called MetsMerizedOnline. A Professional Communications major, Sam is positioning herself for success.
"With my straight A's in writing courses, I have a strong background in writing articles and papers," said Sam. "Working for a sports team combines my love for sports and increasing interest in communicating with people through mediums such as social media and online magazines."
Sam has been writing for MetsMerizedOnline for only two months, but has already published nine articles, about the Mets and other baseball news. She was also recently named to the Mets Fan Advisory Board, one of only 30 members selected from more than 300 applicants. She consults with the Mets media relations staff on content for YouTube, Instagram, Twitter, and Facebook. "Having grown up with social media, I have been observing the patterns and ways to grab followers' attention, especially with sports."
Sam has been a baseball fan since she was four years old, and was later indoctrinated into the Mets family by her mom and dad. Now she is pairing her love for the Amazin's with her passion for high-tech communications.
"My childhood love for baseball has fueled my interest in sports writing and sports media."
Sam attended Hofstra University before transferring to FSC this spring.