FSCNow, the Web Edition, Now Online
April 8, 2019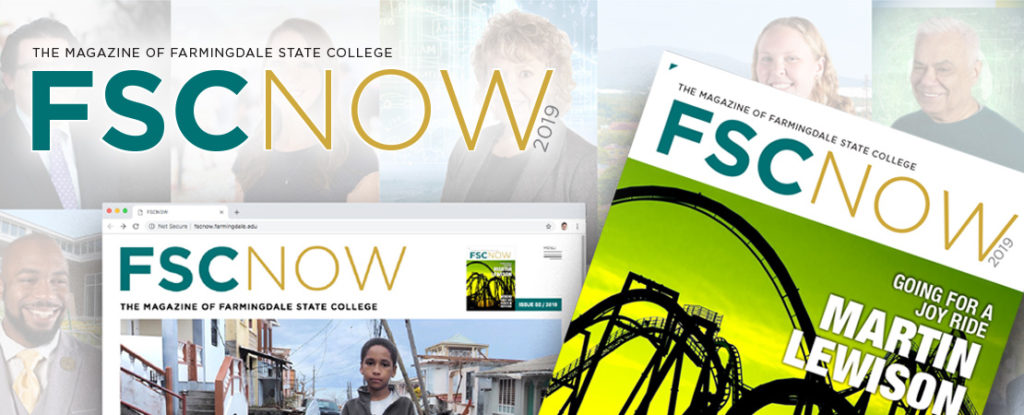 FSCNow – the College's glossy, feature-filled magazine – is back, with the second issue now available online. You can read it now, on the magazine's high-tech microsite.
Designed, written, programmed, and photographed by the staff of the Office for Institutional Advancement, FSCNow celebrates the outstanding faculty, students, alumni, donors, senior administrators, business partners, and programs that have made FSC "SUNY's Hottest Campus."
Start with the cover story on Dr. Martin Lewison, Business Management professor by day, and world-traveling roller coaster aficionado in his spare time; next, read about the rebuilding of Puerto Rico, through the eyes of FSC students who spent time there helping rehabilitate the island. And don't miss the bonus videos and photos available only on the microsite.
Then move on to an issue packed with alumni and student spotlights; faculty profiles; snapshots of recent graduates; "Bragging Points" that make FSC a special college, and more. Among those featured this issue are Theresa Santmann – FSC's "guardian angel" – after whom the School of Health Sciences building is named; School of Engineering Technology dean, Dr. Barbara Christe and the "Women of STEM" faculty; SGA president Messiah Gamon; Dr. Carlos Marques and his Mathematics Department all-stars, and much, much more.
So read FSCNow online, or download it so you don't miss a word.