Sigma Beta Delta Honor Society Induction Ceremony
Thursday, April 4, 2019 6:30pm Roosevelt Hall Little Theater
Past Event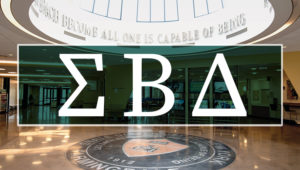 The campus community is invited to attend the annual FSC chapter of the Sigma Beta Delta Honor Society induction ceremony.
Juniors and seniors majoring in Business Management, Computer Systems, and Sport Management who have placed in the top 20% for GPA in their major, will be inducted. Sigma Beta Delta promotes values of wisdom, honor, and meaningful aspirations.
RSVP if you would like to attend, by contacting Dr. Martin Lewison; 631-420-2187.
Published on March 26, 2019