FSC and Suffolk Community College Partner in New Nursing Program
February 4, 2019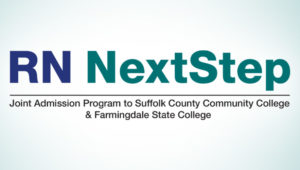 FSC and Suffolk County Community College  have announced a joint admission program that will allow selected students accepted into Suffolk's Associate in Science in Nursing program to be simultaneously accepted into FSC's Online RN to BS Completion program. Students accepted to the RN NextStep program will complete their first two years of study at SCCC, then matriculate seamlessly into FSC's Online RN to BS Completion Program and earn their BS in Nursing.
A Farmingdale nursing faculty advisor will provide SCCC faculty and RN NextStep students information sessions, workshops, and advisement during their two years at Suffolk.
Said Dr. Lori Goodstone, nursing  department chair: "This is a crucial pathway to serve the increasing demands of the local community, and in response to the 2017 bill signed by Governor Andrew Cuomo requiring future nurses graduating from associate degree or diploma nursing programs to obtain a baccalaureate in nursing within 10 years of initial licensure.  FSC is well equipped to serve the RN NextStep program in our new Online RN to BS Completion Program.  We look forward to welcoming many future classes of RN NextStep students to Farmingdale State College."
"FSC's College of Health Sciences is delighted to partner with Suffolk County Community College in advancing their associate degree nursing graduates to the baccalaureate level by utilizing an online format," said Dr. Denny Ryman, dean of the School of Health Sciences.