Dr. Yetunde A. Odugbesan-Omede Speaks on U.N. Human Rights Declaration
January 7, 2019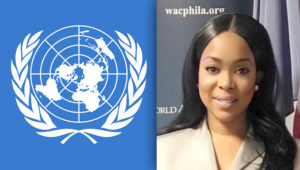 Dr. Yetunde A. Odugbesan-Omede
Dr. Yetunde A. Odugbesan-Omede, visiting assistant professor in the Department of History, Politics and Geography, recently participated as a panelist in a celebration of the 70th anniversary of the United Nations' Universal Declaration of Human Rights. The meeting was held at the World Affairs Council of Philadelphia.
Drafted by representatives with different legal and cultural backgrounds from all regions of the world, the document set out fundamental human rights to be universally protected. It holds the Guinness World Record as the most translated document, yet, far too many people are still unaware of their basic rights as human beings.
Dr. Odugbesan-Omede also recently spoke at the Global Tech Summit, held here in New York. Sitting on a panel – "Ecosystem to Scale 101: How to be an ecosystem builder for emerging market" – she discussed the importance of tech social responsibility, ethics in the tech world, and the importance of creating ecosystems that provide support and the protection of intellectual property.