RAM Scholars Present at the SUNY Applied Learning Conference
December 10, 2018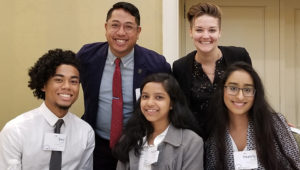 (Back row) Dr. Erwin Cabrera and Dr. Erica Jayne Friedman (Front row, L-R) Seiji Clark, Tonuza Ahmed, Heamily Singh
Dr. Erwin Cabrera, associate director, and Dr. Erica Jayne Friedman, assistant director, of the Research Aligned Mentorship (RAM) Program took three RAM scholars to present at the SUNY Applied Learning Conference in Tarrytown, N.Y.recently, where faculty, staff, administrators, and students from SUNY discussed applied learning initiatives and ways to continue and improve the implementation of applied learning opportunities for students.
RAM Scholars included Tonuza Ahmed (junior, bioscience), Seiji Clark (sophomore, mechanical engineering technology), and Heamily Singh (junior, applied psychology).
Ahmed spoke about her fully funded summer research experience with the Leadership Alliance at University of Miami's School of Medicine, where she conducted research on pain management for spinal cord injuries. Clark discussed his on-campus research with FSC mechanical engineering technology professor, Dr. Gonca Altuger-Genc, and their building a color-sorting robot. Singh spoke on her on-campus research with applied psychology professor, Dr. Sayeed Islam, on the perceptions of Instagram personalities.
For more information contact Sarina Turbendian; 631-794-6403.