Fall Convocation Scheduled for Thursday, 8/30
Thursday, August 30, 2018 9:30am - 10:30am Roosevelt Hall Little Theater
Past Event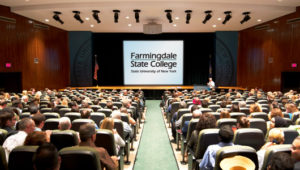 Come hear President Nader's vision for 2018-2019 (and beyond), preceded by a look back at the past 12 months. Also planned is recognition of FSC's 2018 Chancellor's Award and CARES winners.
A continental breakfast will be served at 8:30 a.m. in the Multi-Purpose Room.
And as a bonus, there will be an Employee Appreciation picnic at noon on the lawn behind the Campus Center. FSC, UUP, and CSEA are sponsoring the BBQ, which will include hamburgers, hot dogs, veggie burgers, nacho station, and ice cream, along with a variety of beverages. If you want to attend, please RVSP at BBQ by Friday, 8/24.
For more information, contact Kathy Coley; 631-420-2719.
Published on June 25, 2018