Candlelight Vigil and Blood Drive
June 20, 2016
Thursday, June 23 at Roosevelt Hall; 7 p.m. for the Vigil and 2-8 p.m. for the Blood Drive
Activities will take place on the Great Lawn or inside Roosevelt Hall in case of rain.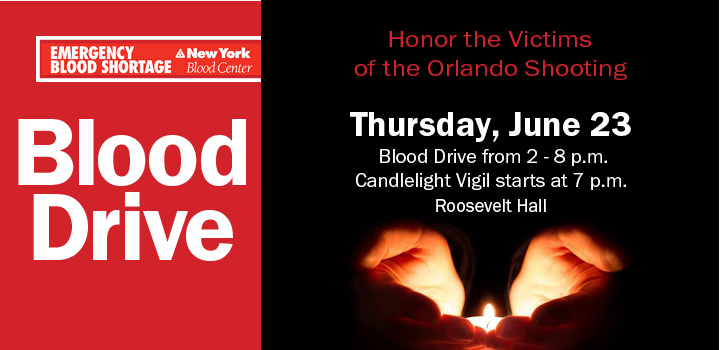 The agenda for Thursday's candlelight vigil in honor of those who lost their lives in the Orlando, Florida mass shooting includes:
A blood drive for survivors of the attack, to be held from 2 -8 p.m., in the bloodmobile on the Great Lawn, necessitated by an urgent blood shortage.
A vigil starting at 7 p.m.
A book in which participants can record their thoughts and prayers, which will be sent to the Pulse nightclub.
A collective art project that will allow attendees to record words of encouragement and drawings.
Support services
A collection of supplies to be sent to Orlando blood collection centers, including juice, water, cookies, crackers, fruit snacks, and gift cards.  (Donations of these items are also being collected at the college's Health & Wellness Center, off the campus's Melville Road entrance.)
"We hope that this event helps people to heal, but also to dialogue with others about the causes of this atrocity, and how we, together, can combat heterosexism, homophobia, transphobia, sexism, racism, Islamophobia, and a range of others forms of discrimination that affect our communities" said Dr. Angela Jones, sociology professor and coordinator of the college's Women, Gender, and Sexuality Studies program.
"Farmingdale wants to provide a safe and peaceful space for all who mourn, to be with one another, and support one another," said Dr. Jones.
For updates on activities, go to the FSC Facebook Event Page and let organizers know you plan to support Orlando.
Please print and post this flyer Orlando Vigil and Blood Drive