Aviation Major Flying High with New Scholarship
December 14, 2015
Senior Leigh Bedia, an Aeronautical Science – Professional Pilot major, is the first winner of the Casey Falconer Memorial Scholarship. The scholarship is awarded in memory of former Farmingdale aviation student Casey Falconer.
Bedia, a Dean's List student, is a volunteer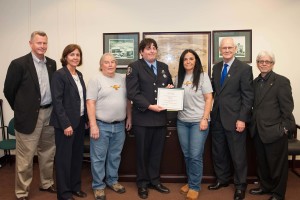 with the City of Long Beach Fire Department, where he has received service citations for life saving and his volunteer work in the aftermath of Hurricane Sandy. He is also a Town of Hempstead Senior Ocean Lifeguard. After graduation from Farmingdale next spring, he wants to use his experience as a pilot and firefighter to become an air tanker pilot, with the goal of fighting forest fires.
Bedia's aviation dream formed at an early age. A family story has it that while still in diapers he pointed at a plane – thus launching his interest in aviation. As a four year old, he would ride with his father, who was taking flying lessons at the time. His father bought him his first flight lesson on his seventh birthday.
L-R: Dr. Michael Canders, Dr. Jeanne Radigan,  Ed Falconer Leigh Bedia, Sandy Falconer, President Keen and Professor Lou Scala.