Ensuring an Energy-Efficient and Sustainable Future
November 16, 2015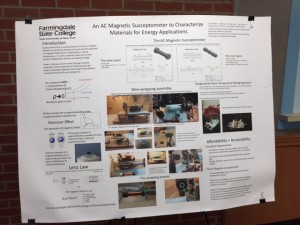 U.S. and international scholars and experts met in Roosevelt Hall last week to discuss solutions to issues related to a sustainable future for energy, water and the food nexus at the 4th Annual International Energy & Sustainability Conference.
Sponsored by the Renewable Energy and Sustainability Center at FSC, the conference featured speakers from as far away as China, Germany, Pakistan, and Iran, and as close as the FSC campus.  They addressed issues such as the interaction between water and energy sustainability, energy conservation, and turning trash into biodiesel.
The event kicked off with a poster competition (see above) for high school, undergraduate, and graduate students, and finished with a full slate of presenters, and vendors showing off their renewable energy and sustainability products.
Congratulations to Professor Marjaneh Issapour and everyone at RESC.